What's new – Info on Events, Tradeshows and our New Products
Reviews of our products
Gardening Product Review: Our EasyFill Original Vs Pro Hanging Basket – read it here.
An alternative to a concrete base: Our EasyPave Permeable Paver – read it here.
Tradeshows
IFAT Utilities Tradeshow 2016 Munich – 30th May-3rd June
We had the opportunity to showcase our new products at IFAT 2016 in Munich. Our new Manhole Lid Technology – LAST – gained a lot of interest. To find out more, contact us on 01204 361547 or send us an email.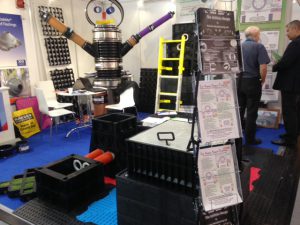 Pipe Man, courtesy of Deks, who we shared a stand with. Read more about it here.
RCI Show 2016
Ricoh Arena, Coventry (27th – 28th January 2016)
We had a fantastic time at the RCI Show 2016 in Coventry, talking to all those who were interested in discussing their construction needs. Take a look at some of our tradeshow pictures.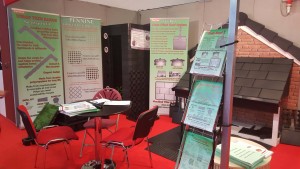 UK Construction week 2015 
The Build Show – NEC Birmingham (6th – 8

th 

October 2015)
From the 6th until the 8th October 2015, we attended the 'UK Construction Week 2015' at the NEC in Birmingham where we had the pleasure to talk to anyone interested in our wide range of building products. The first time since launching our range of roofing products, we brought along our little roof as well as samples of each roofing product.
Apart from our roofing products, we also brought samples of our building products, including our attenuation and infiltration systems, our ground reinforcement mats, our modular plastic chambers, our flooring system and our sub-paviour tray.
Utility Week Live 2016
17-18th May
Our New Products
1) Modular inspection chamber systems – August 2015
We are currently working on a new inspection chamber system, called EasyLiner which will be launched on 31st of August. Different than our other chambers, EasyLiner will be easier to assemble while still being able to withstand a heavy weight load. More information can be found here.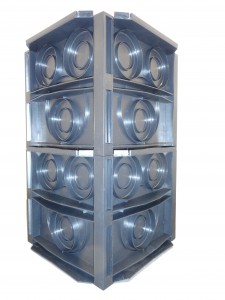 2) Roofing products – August 2015
We are happy to announce that we will be introducing a new product line of roofing products shortly. Take a look at our pictures to see for yourself what the products will look like.
3) Manhole Lid and Frame System – L.A.S.T. (Lid Angular Support Technology), October 2016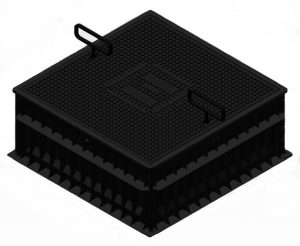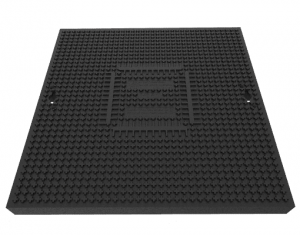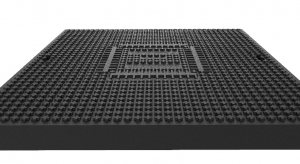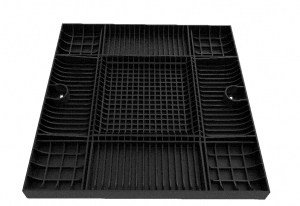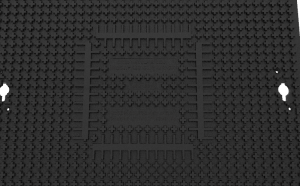 Our new range of unique composite manhole lid and frames – 600 x 600mm – will be in production in October 2016 followed by 450 x 450mm and 600 x 450mm in November.
Additional information and more pictures on our building products can be found here.
To request a sample of any of our products, visit here.