The Plastic Roofing Range
Verge Trims and Ridge Caps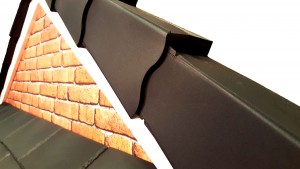 Battens
Our strong glass-reinforced plastic battens onto which the slates clip without the need for nails, screws or staples.
Ridge Caps
Available in angled or curved form.
Eavesguard
This protects the eaves area and is also vented to achieve correct air flow through the roof space.
 Verge Trim 
The components of the verge trim roof system are available in charcoal, brown, terracotta and black and are made from strong UV stable co-polymer polypropylene.
We have a range of slate-effect plastic roofing tiles coming soon.
 To download our datasheet, complete the form below, or to request a sample, visit here.